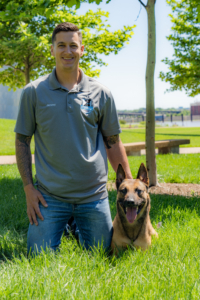 I began my dog training education in 2015 after an honorable discharge from the military. During my years of military service, I was assigned to a helicopter Search and Rescue squadron where I personally conducted dozens of medical evacuation missions. I have since dedicated my personal and professional life to helping and educating others.
Upon my return, I felt called to help military veterans who suffer from PTSD and other service-related disabilities. That led me to study service dog training as well as how to cultivate the human-canine bond. After graduating at the top of my class, I went on to serve as Lead Trainer for the facility and eventually was promoted to Instructor.
I've dedicated myself to becoming a lifelong educator and learner, striving to instill a similar desire in all the students I have the pleasure of teaching. Not only do I love teaching and helping people understand dog behavior, but I have my passion for competitive protection sports. I am a certified Protection Sports Association decoy and happily donate countless hours of training with local police departments. I look forward to helping each student be successful in the industry I love.