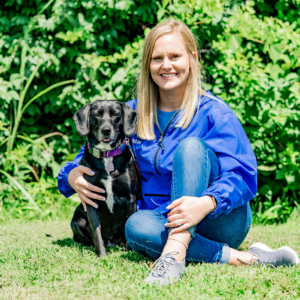 Abbie has always had a passion for animals, dogs especially. Her first job during high school was at a doggy daycare, just to make some axtra money.  She worked other jobs, but always gravitated back towards the pet industry. Abbie first joined the Kennelwood team in 2017. After trying her hand in a few different careers she returned to her true passion and to Kennelwood in 2021.
"I love working at Kennelwood because it really doesn't feel like a job. I am not forced to sit at a desk and stare at a computer from 8-5. I am able to be active, meet a lot of people and their amazing fur babies."
Abbie has a 10 year old Great Pyrenees named Bear, that she and her husband have had since he was 4 weeks old. They also have a 6 year old Beagle/Catahoula mix named Remington that they adopted.  As of 2020 they acquired two cats who showed up on our their porch, so they took them in before winter and they are now a part of the family. Their cats are named Sassy (she got her name honestly) and Kitten.
In her free time, Abbie enjoys doing anything outside, but mostly spending time with her husband and fur babies.