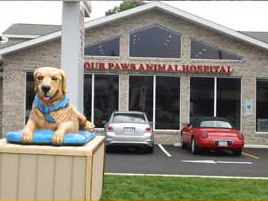 Pet Boarding, Dog Daycare & Grooming in O'Fallon, IL
O'Fallon
We operate a premier pet resort that offers full-service pet grooming, dog training, spa services and a convenient shuttle to and from our nearby Maryville boarding facility. Our O'Fallon Kennelwood location, which is open 7 days per week, can be found within the Four Paws Animal Hospital near Fairview Heights, Shiloh and Collinsville, IL.
Schedule your pet's appointment online, or call our O'Fallon pet hotel at 314-429-2100 to ask about our services and pricing.
Four Paws Animal Hospital and Kennelwood Pet Resorts are moving to a new facility in early March 2021. Our new address will be 208 Hartman Lane, O'Fallon, IL 62269.
Sunday – Closed
Monday – 7:00am-5:00pm
Tuesday – 7:00am-5:00pm
Wednesday –7:00am-5:00pm
Thursday – 7:00am-5:00pm
Friday – 7:00am-5:00pm
Saturday – 
8:00am-4:00pm
View our upcoming holiday hour,
click here
Services at O'Fallon Kennelwood include:
From Pet Parents
See what all

the bark is about

In 47 years of business, we've served over 60,000 happy fur families. See why our staff and services are still the talk of the dog park.