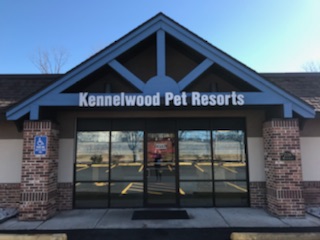 Pet Boarding, Dog Daycare & Grooming in Ballwin, MO
Mason Lane
Our Ballwin pet resort is here to serve Pet Parents in need of boarding, grooming or afternoon doggie daycare in Manchester, Ellisville or Wildwood. As a full-service pet hotel staffed by professional pamperers, we're proud to offer affordable convenience to the busiest of pet owners. Your pet is always part of the Kennelwood family.
Request an appointment online or call the team at our Ballwin Kennelwood location at (314) 429-2100.
Sunday – 10:00 AM – 5:00 PM
Monday – 7:00 AM – 5:00 PM
Tuesday – 7:00 AM – 5:00 PM
Wednesday – 7:00 AM – 5:00 PM
Thursday – 7:00 AM – 5:00 PM
Friday – 7:00 AM – 5:00 PM
Saturday – 7:00 AM – 5:00 PM
View our upcoming holiday hours, click here
Services at Mason Lane Kennelwood include:
Meet Our

Mason Lane Staff
From Pet Parents
See what all

the bark is about

In 47 years of business, we've served over 60,000 happy fur families. See why our staff and services are still the talk of the dog park.